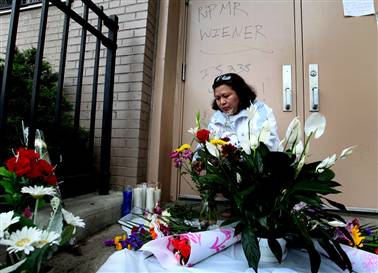 Math teacher Emelinda Mabulay places flowers in memory of her supervisor(导师、督学)Mitchell Wiener, who was assistant principal(副校长) at IS 238 Susan B. Anthony School in New York. Wiener died earlier this week after contracting swine flu.
SALT LAKE CITY - Swine flu forced Christina Huitron to make a choice no mother should ever have to make.
On Wednesday she told doctors to take her 21-year-old son off life support, making Marcos Sanchez the nation's 10th fatality associated with the newly discovered virus that continues to spread across the globe.
"I knew he was suffering," Christina Huitron told KSL-TV. "I don't know how he was feeling, but I just knew I had to do it because he was passing away slowly anyways, and I didn't want him to suffer anymore."