September 17, 2011
A house sits across a road after being moved by the tsunami near the port in Hachinohe, Aomori prefecture in March 2011 two days after a massive 8.9 magnitude earthquake and tsunami hit the region. A strong 6.6-magnitude undersea earthquake hit off the eastern coast of Japan's main Honshu island on Saturday, not far from the area devastated by a huge quake and tsunami in March, US geologists said.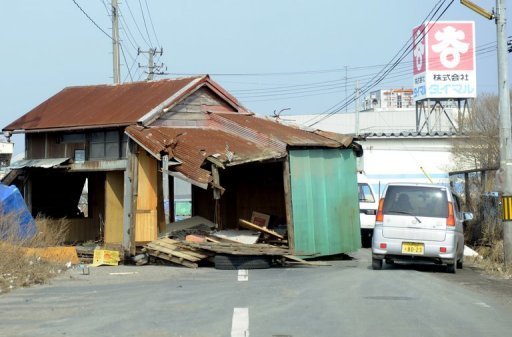 AFP-- A strong 6.6-magnitude undersea quake and a series of aftershocks hit off the coast of Japan's Honshu island, not far from the area ravaged (破坏, 蹂躏)by a huge March quake and tsunami, geologists said.
There were no immediate reports of damage or casualties (伤亡) and no widespread tsunami warning, although the initial earthquake was followed by five more quakes of magnitude five or above, one of them measuring 6.2.
The United States Geological Survey (USGS) said the first, 36.2-kilometre (22.6-mile) deep quake hit 108 kilometres east-south-east of the coastal town of Hachinohe (八户:日本本州岛北部一城市,临太平洋,是一重要的渔港和商业港。), 574 kilometres from Tokyo, at 4:26 am on Saturday (19:26 GMT Friday).
The Pacific Tsunami Warning Center said that "no destructive widespread tsunami risk exists based on historical earthquake and tsunami data".
But it said that quakes of this size sometimes generate local tsunamis. "Authorities in the region of the epicentre should be aware of this," the centre said in a statement.
The Japan Meteorological Agency said that there might be some changes in sea levels due to the first earthquake, but that there were no reports of damage or casualties and none were expected, according to the Kyodo news agency.
It said the initial quake jolted (摇晃) Iwate (岩首) prefecture (县), an area badly hit by the 9.0-magnitude earthquake and tsunami on March 11 that left almost 20,000 dead or missing and sparked the worst nuclear crisis since Chernobyl (切尔诺贝利:苏联欧洲部分中西部城市,位于基辅西北偏北。是1986年4月16日的一场核能大事故的所在地。).
The 6.6-magnitude quake was followed by two smaller magnitude-five tremors (震动) within an hour in the same area east of Hachinohe.
The fourth quake struck at 7:08 am (2108 GMT Friday), with a magnitude of 6.2 at a depth of 20.2 kilometres, 137 kilometres east-south-east of Hachinohe. Again, no widespread tsunami warning was issued.
During the next two hours there were two more magnitude-five tremors nearby, the second one with its epicentre only five kilometres deep, USGS said.
Japan, located on the tectonic crossroads known as the "Pacific Ring of Fire" and dotted with volcanoes, is one of the world's most quake-prone countries.