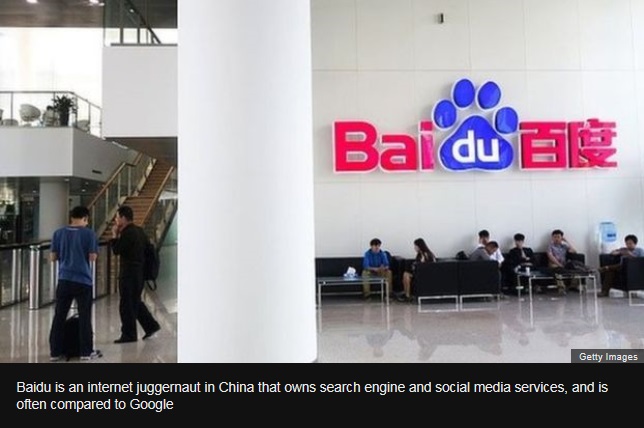 The top executive at China's online giant Baidu has appealed to employees to place "values before profits".
Robin Li had made the appeal to the staff, following a recent scandal around the death of a student who underwent a controversial treatment found on the company's search site.
Mr Li also said, if Baidu were to lose the support from the online community, the firm could go bankrupt in 30 days.
Baidu is China's largest search engine with a 70% share of the market.
More than 660 million people use Baidu's mobile search service every month. The company is often likened to the US online giant Google.
The letter from Baidu's chief executive (in Chinese) was posted by Sina.com - an online media company which also owns Sina Weibo, a popular micro-blogging site in China that is similar to Twitter.
Mr Li had also mentioned in the letter, the questions he had been asking himself in the "dead of the night", which include: "Why so many every day Baidu users no longer love us? Where is the problem in the end?"
Online user death
Mr Li's letter followed outrage from the online community in China, who learnt earlier this month about the death of a student who tried an experimental cancer therapy that came top of the list in his Baidu web search.
Chinese authorities had launched a probe into the death of Wei Zexi, who died from a rare form of cancer - synovial sarcoma.
He and his family said he found out about a controversial treatment at the Second Hospital of the Beijing Armed Police Corps through Baidu. The hospital was listed at the top of his search results. But the treatment was unsuccessful and the 21-year-old student died on 12 April.
Before his death, Wei publicly accused the hospital of misleading him and his family of the treatment's effectiveness, and criticised Baidu for selling search listings for medical information to the highest bidder.
Earlier this week, Chinese regulators said Baidu must reduce the number of paid-for adverts it includes in its search engine.
The company has said it will overhaul its search results so they are primarily ranked by credibility.