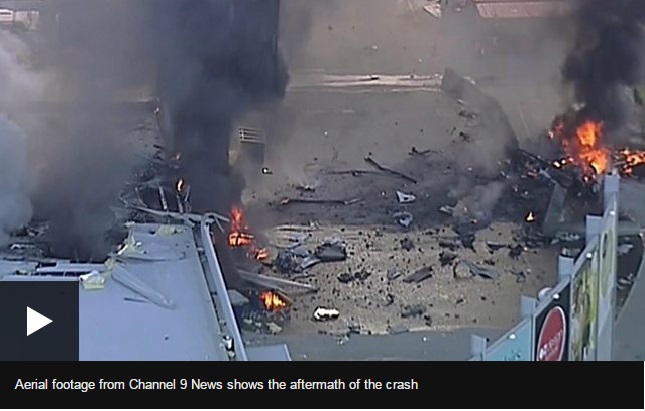 Four US citizens and an Australian pilot have died after their light plane crashed into a shopping centre in Melbourne, Australia.
The charter flight appeared to have had a "catastrophic engine failure" shortly after taking off from the small Essendon Airport, said police.
Despite the destruction, no-one was killed or injured on the ground.
Victoria's Premier Daniel Andrews said it was the worst civilian aviation accident in the state in 30 years.
"Today is a desperately sad day," he said.
The Australian Transport Safety Bureau said it would investigate how the twin-engine Beechcraft B200 King Air crashed soon after 09:00 local time on Tuesday (22:00 GMT Monday).
A spokeswoman for Spotlight, a retailer in the complex, said the plane crashed into its rear warehouse but all staff were safe.
The Direct Factory Outlets centre was not open to the public at the time.
"Looking at the fireball, it is incredibly lucky that no-one was at the back of those stores or in the car park of the stores, that no-one was even hurt," said Victoria Police Assistant Commissioner Stephen Leane.
The US embassy has confirmed that four passengers on the plane, bound for Tasmania's King Island, were US citizens.
Local media named the pilot as 63-year-old Max Quartermain. He had decades of flying experience and an "impeccable safety record", according to the website of charter company Corporate and Leisure Aviation, which he owned with his wife.
Essendon Airport, mostly used by light planes, is about 13km (8 miles) north-west of central Melbourne.
It has been closed, but the city's main hubs for commercial air traffic - Melbourne Airport and Avalon Airport - remain open.