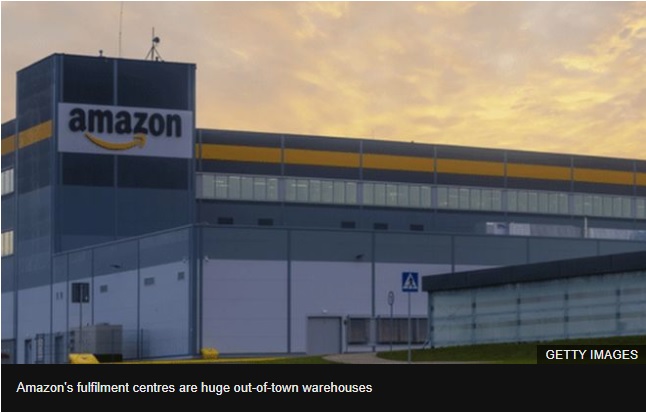 Amazon orders are pouring into warehouses around the world as people rush to buy Christmas gifts and take advantage of Black Friday deals.
But for those fulfilling these orders, peak season - as workers call the run-up to Christmas - is not especially festive.
It means long hours, hard work and for some, difficult decisions.
One young woman working at an Amazon warehouse in the US describes driving hundreds of miles to drop her child with his father for the whole Christmas period. Her schedule means she cannot look after him.
She posted a picture of herself and her child in their car on a Facebook group.
The BBC gained access to the group, which has 20,000 members, and is a place where workers discuss their jobs, lives and working conditions.
Amazon insists that it pays industry-leading wages and that working conditions in its warehouses are very good.
Jeff Bezos, chief executive and one of the world's richest men, has resisted calls for unionisation.
The Facebook group paints a complex picture of the firm.
Lots of people say they are worried about being fired.
Some (but not many) of the group appear to enjoy their jobs; lots of people make light of their daily routines with black humour, memes and videos. Sometimes they share good news about promotions or bosses spontaneously buying them pizza.
One has posted a live video of recent protests at a Staten Island warehouse alleging poor working conditions.
The first comment below it reads: "They will take names and six months from now none of those people protesting will be working there any more."
Others point out that there did not seem to be much of a crowd, with some saying that while they agreed with the sentiment, it was "stupid" to protest.
Amazon told the BBC: "Fewer than five Amazon associates participated in the event outside the Staten Island fulfilment centre. It was obvious to the 4,500 full-time workforce that an outside organisation used our building and the upcoming retail holidays to raise its own visibility and spread misinformation.
"The fact is that Amazon provides a safe, quality work environment in which associates are the heart and soul of the customer experience, and the notable lack of Amazon employee participation shows that associates know this to be true."