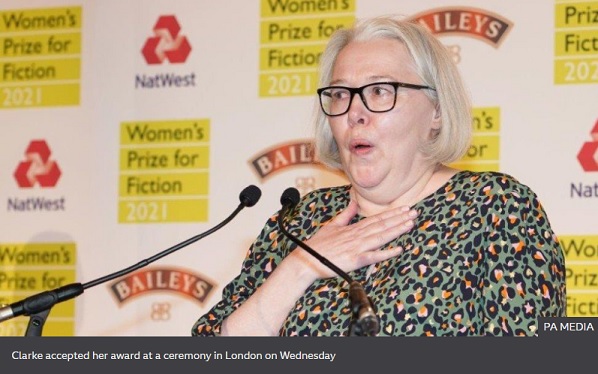 British author Susanna Clarke has won the 2021 Women's Prize for Fiction for her second novel Piranesi.
The fantasy work is the long-awaited follow-up to her acclaimed 2004 debut Jonathan Strange and Mr Norrell.
Piranesi, a mystery about a man living alone in a labyrinthine house, beat five other books to the £30,000 prize.
Novelist Bernardine Evaristo, the chair of the judging panel, said she and her fellow judges "wanted to find a book that we'd press into readers' hands".
She added: "With her first novel in 17 years, Susanna Clarke has given us a truly original, unexpected flight of fancy which melds genres and challenges preconceptions about what books should be.
"She has created a world beyond our wildest imagination that also tells us something profound about what it is to be human."
Clarke collected her award, a bronze figurine dubbed the Bessie, at a ceremony in central London on Wednesday.
The author, who fell ill while promoting her first book and was eventually diagnosed with chronic fatigue syndrome, dedicated her win to other women "incapacitated by long illness".
"As some of you will know, Piranesi was nurtured, written and publicised during a long illness," she told the audience.
"It is the book that I never thought I would get to write. I never thought I'd be well enough. So this feels doubly extraordinary."