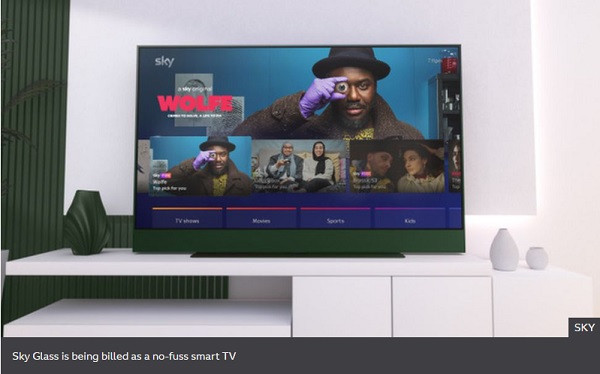 British broadcaster Sky is launching a TV that streams content via the internet, removing the need for a satellite dish.
The company describes Sky Glass as a "no-fuss" streaming TV.
One expert said it would put the broadcaster in direct competition with TV makers such as Samsung and Sony.
Another said while ditching the "outdated satellite dish" was long overdue, it was "an expensive way to watch TV".
Sky Glass eliminates the need for an external box - and with built-in Dolby Atmos, there is no need for a sound bar either.
*three versions - 43in, 55in and 65in
*a single wire and just one plug
*4K ultra-high-definition quantum-dot screen
*10-bit high dynamic range to support Dolby Vision HDR
*voice-activated interface
*available in five colours
"Sky Glass is the streaming TV with Sky inside, providing the total integration of hardware, software and content," group chief executive Dana Strong said.
"We believe this is the smartest TV available."
Although it will require a Sky subscription, content from BBC iPlayer, Amazon, Netflix, Disney+, ITV Hub and All4 will also be available.
Sky has not yet named the hardware partner who will make the device.
It has also not explained how exactly it plans to stream its content over the web, without delays or buffering.
If someone wishes to cancel their Sky subscription after purchasing the TV, they will still be able to use the TV but will lose some of the more advanced features, such as voice control and playlists.