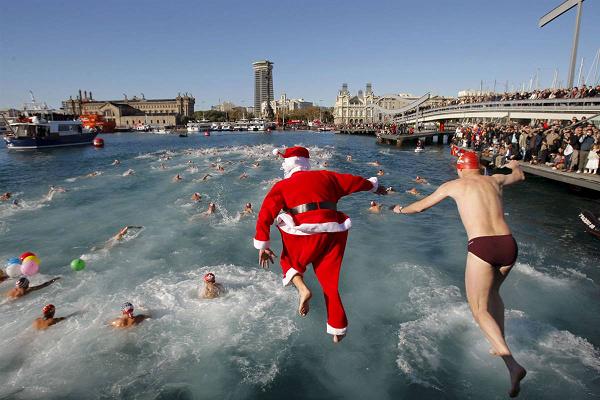 ---
Cyndi Livingston, left, watches grandson Michael Walker play with a snowman in Summerland Key, Fla., on Friday. Although temperatures in the Florida Keys were in the high 70s, the Livingstons had "snow" thanks to about 20 tons of ice crushed(压碎) and deposited(放置) on their oceanfront(海滨) property.
---
Thousands gather to celebrate Christmas Eve at the center of southwest China's Chongqing municipality(直辖市) on Thursday. Christmas is becoming an increasingly popular commercial(商业的) holiday despite(尽管) official estimates(估计) that only about 2 percent of China's 1.3 billion people are Christian.

---
Belarus(白俄罗斯) girls hold candles during a service at the Red Catholic temple on Christmas Eve in Minsk(明斯克,白俄罗斯首都).

---
Children wear costumes as they partake in(参与) a Christmas pageant(盛装游行) at the presidential palace on Christmas Eve in Port-au-Prince, Haiti.

---
Pope(教皇) Benedict XVI celebrates Christmas Mass at St. Peter's Basilica(长方形廊柱大厅).
---
A sea of pedestrians(行人) walk along Oxford Street for their last chance at Christmas shopping in London on Thursday.

---
People celebrate Christmas Eve in front of Moscow's Catholic Church(天主教堂) of the Immaculate Conception on Thursday.

---
A man in a Santa Claus costume reaches out to Israeli Arab children during the annual Christmas procession(行队) in the northern town of Nazareth on Thursday.