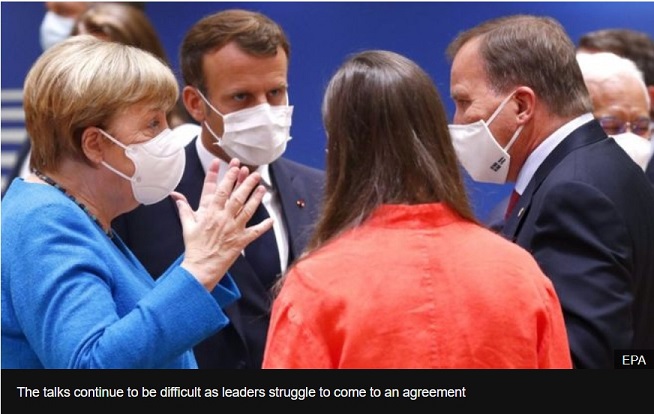 EU talks aimed at reaching an agreement on a huge post-coronavirus recovery fund have stretched into a fourth day.
There are reportedly deep differences between the leaders, who are trying to negotiate the deal at the same time as the bloc's next long-term budget.
Some member states believe the proposed €750bn ($857bn; £680bn) package is too large and should come as repayable loans, rather than grants.
The talks are reported to have been testy, with tempers flaring at times.
In the early hours of Monday morning, French President Emmanuel Macron reportedly banged his hand on the table and threatened to walk out of the discussions.
And Dutch Prime Minister Mark Rutte has admitted leaders were "close to failure" and talks could still "fall apart".
Discussions are due to resume at 14:00 GMT on Monday for what is now the longest EU summit since Nice 2000, when talks lasted five days.
President of the European Council Charles Michel reminded the leaders that more than 600,000 people had died of the virus worldwide, and he hoped that the "headline tomorrow is that the EU has accomplished mission impossible".
On Monday morning, the total number of confirmed cases of coronavirus was almost 14.5 million globally.